The exciting augmented reality game has got users out and about searching for and battling Pokémon, including the elusive Pikachu.
Developed by Niantic Labs, in conjunction with Nintendo and The Pokémon Co., Pokémon Go has become an immediate hit and the biggest ever game in the US. The mobile app is currently the top downloaded free app in both Apple and Android stores and is continuing to grow at an unprecedented rate.
As a global App Store Optimization company we have taken a look at the Pokémon Go app from a more mechanical angle.  We know there are a lot factors that enable an app to rank well inside app stores. We've taken a look at how well Pokémon Go has done with some of the main elements.
Keywords
We put the app through our keyword tracker and found, of course, the app ranks number #1 for 'Pokémon', 'Pokemon', 'Pokémons' on both Android and iOS. The problem came when we looked at words such as the famous catchphrase 'gotta catch em all' and various popular characters such as Pikachu and Mew, which rank in Android but not for iOS.
Another major keyword we noticed it didn't rank for in iOS is Nintendo. Although kids of today might not remember it as a game for the Nintendo Gameboy, (so the word Nintendo may be irrelevant to them), it does mean that the percentage of us that did play the game in the 90s may be using this keyword to no avail. Seeing as the Nintendo stock market has practically doubled since the release of the game, we feel they are really missing out by not ranking for this word.
Although it's all anyone is talking about right now, there will still be a few potential users who haven't heard all the hype and once the initial novelty has worn off, it will generally become less talked about. Without ASO this will inevitably lead to the app quickly falling from the top spot and even top 10, leading to a decrease in downloads. We can see, only after a few weeks it no longer appears in the trending page of the app store and yet it's still one of the most talked about topics. What happens when the media around this dies down?
We can see how effective it is to rank for as many keywords as possible by taking a look at the download figures for the app. Android, which ranks for more keywords than iOS, has had 24.2 million downloads and iOS has had just 13.7m. Downloads is one of the most important factors affecting app store rankings. The more downloads an app gets the higher it will rank for keywords and its category, we can see that Pokémon Go ranks #1 for a few keywords and for the games category. If an app doesn't rank for certain keywords (such as Pokémon Go doesn't in iOS) then users searching using these words won't find it and therefore downloads will decrease. This is where the Pokémon Go developers need to look into their iOS keywords and make changes in order to stay on top.
Visuals
Visuals are a hugely important factor; we've taken a look at how well we think the Pokémon Go app have done theirs.
Their app icon is well done; they have used one visual element to make a strong impression on people, the Poké Ball, an image that everyone will instantly recognise. The screenshots on the other hand need a lot of improvement. Screenshots are there to explain what an app does and are a prime piece of marketing material.
A semiotic analysis of the screenshots for Pokémon Go shows they convey an overall lack of effort. The screenshots use up the entire image space, meaning there is no room to add calls to action, without which the users cannot easily tell what each screenshot is about. For example, one of the screenshots is of a fountain, this is supposedly a PokéStop, but how would a new user know this? They have chosen to name the fountain rather than explain what it is. Screenshots are in place so potential users can easily identify gameplay, but with the images used for this app it's not that simple.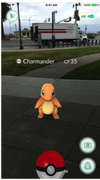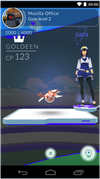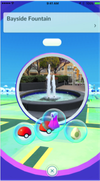 Screenshots need to catch the users eye and attract them to download the app, but the screenshots for Pokémon Go are far from aesthetically pleasing. Take a look at the first screenshot on the App Store, okay, they have used a much-loved Pokémon but look at the background, your eye is automatically drawn to the lorry and behind that a car park, not very appealing. Android have done a slightly better job by choosing a park as the surroundings but again this could be better. Then we go to the Android screenshot of the Gym, which for one, doesn't tell us what the Gym is about, secondly, surely they could have picked a slightly happier looking Pokémon, it is suppose to be a fun game after all.
The more screenshots you include, the more you can tell potential users about your app. Google Play allows you to have eight screenshots and the App Store allows for five. The Pokémon app has used all five for iOS but not all eight for Android. There is simply no reason not to utilize all screenshot space available.
Ratings/Reviews
Positive reviews and ratings can be a big help in convincing undecided users to download your app.
Pokémon Go has so far had 11,549 ratings and 7,504 reviews in the App Store but only rates 3 stars. There are quite a few negative reviews about slow loading times and freezing issues, all of which are expected this early in the games release. But we can see they have already had 3 updates, which is great and shows that they are listening to their users and constantly making improvement, which is exactly what they need to keep users engaged.
It's really important that an app gets ratings and reviews in order to improve discoverability. To get users to rate and reviews we suggest in app prompts either asking users to rate the app or asking users if they are enjoying the app and then prompting them to write a review. We have had the app since it was released in the US and so far we have seen no prompts to give a rating or review.

Localization
Localization is an important step in the growth of any app. To localize an app means translating all its assets and adapting them to the local culture, making it relevant to the local audience. Localization is certainly one of the best ways to expand user base and reach users in other countries.
Countries such as China, Japan and Russia represent significant untapped markets for many developers. For this reason alone localization is a must. Pokémon Go will soon be available worldwide, the developers need to think about localizing the app for each territory in order to keep user engagement and increase installs. This means localizing all data such as keywords, title, description and visuals in order for the app to rank highly within their countries app stores.
To summarise, with so many downloads and such high revenue it shows just how effective brand building can be, but lets not forgot they have had 20 years to build awareness. The current revenue for Android is $1.9m and $5.5m for iOS. These stats suggest that more people are buying in-app purchases through iOS as it is seeing less downloads but higher revenue.
Just imagine if they had implemented ASO as well!
Do these points relate to you app?
Does your app need a makeover to increase downloads?
Do you want to reach markets outside the UK and US?