We'll roadmap your Google App Campaign success
Our joined-up Google App Campaign strategies will save you time, maintain performance and deliver creative cohesion.
Contact us

We deliver better performance and easier campaign management
From strategy development to asset creation and results analysis, our full-service approach enables smooth, effective campaign management.

Lucy Bennett

Head of Agency
Our strategic approach optimises all your Google investments towards install
Ad Asset Auditing
Our creative auditing and roadmapping delivers recommendations to beat the competition and your growth goals.
Ad Asset Creation & Production
Maximise your ROI across Google's UA channels by allowing our team to create your suite of joined-up ad assets.
ASO for Conversion
Our creative and ASO teams align to ensure your app listings are optimised for search relevancy and conversion.
Top 5 tips for Successful Google App Campaigns
For improved engagement, include a variety of creatives
Regularly test and change your creative to maximise conversion
Set your daily budgets high enough to you reach more people
Utilise video to showcase the best features of your app experience
Test your install campaigns first, to build out your event bidding strategies
A joined-up approach to Google App Campaign creative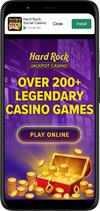 Google enables you to promote your app campaign across the full array of their channels, including Play, YouTube, Search and Display Network.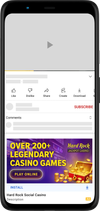 Hard Rock - Jackpot Casino Campaign
Ads are created automatically from the headlines, descriptions, images and videos in your app store listing. A good variety of assets will enable Google to automatically build ads that are most likely to perform well.
Talk to us about creating and managing your Google App Campaign assets.
Contact us