App visibility: When and where it matters the most
Over 650 million people use the App Store every week; Apple Search Ads enable your app to stand out and to be discovered by the most relevant people throughout their App Store journey. Talk to us directly about Apple Search Ads, or learn more here.
Search Related Opportunities
70% of visitors to the App Store use search to discover apps and almost 65% of downloads happen directly after a search. These two search ad placements match your app with the most relevant users searching on the App Store.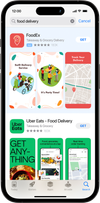 Search result ads
Appearing at the top of the search results list, ads are shown to users based on the direct intent of their search term.
Combine with custom product pages to create ad variations for specific audiences or keywords.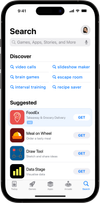 Search tab ads
Appearing at the top of the suggested app list, Search tab ads lets you reach users before they search for something specific.
They're created using your product page assets and are served to those users whose profile best matches your app.
Today tab ads
Today tab ads appear on the front page of the App Store, letting you reach users at the very start of the App Store journey.
Ads are created using the metadata you already uploaded in App Store Connect and will feature your app icon, name, and subtitle.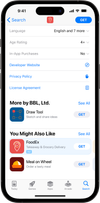 Product page ads
Product page ads appear at the top of the You Might Also Like list, as users scroll to the bottom of relevant product pages, promoting your app to interested users as they browse apps on different pages across the App Store.
Product page ads are created from your existing product page assets.
Custom Product Pages
Create tailored ad variations to target different audiences, take advantage of seasonal or culturally relevant trends, or achieve different business goals using alternative versions of your App Store product pages.
Configured in App Store Connect, you can share custom product pages with different audiences via unique URLs.
Talk to use about your custom product page strategy.
+40%
Lower cost-per-install
Media client search result ad with custom product page success
Contact us